Since the Mission opened its doors in 1911, it has given hope, recovery and an opportunity to thousands of our community's most vulnerable men, women and children.
In order to help individuals, families and communities impacted by the effects of addictions, poverty, homelessness and lack of hope the Erie City Mission has developed 6 core programs that effectively meet both the immediate and long-term challenges of those seeking the Mission's help. Intervention programs include; The New Life Program, for men, and The New Life Program, for women at Grace House; The Samaritan Care Men's Shelter; Hunger Relief through the Free Public Meal Ministry; and The Family Care Center. Prevention Programs include the Mission's Youth Ministry, Urban University Summer and After-School Programs.
A MEMBER OF THE ASSOCIATION OF GOSPEL RESCUE MISSIONS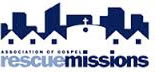 The Mission is part of a national association of 275 "Gospel Rescue Missions". Rescue missions, unlike government entities, can focus on local needs without a community-wide consensus to begin their work. Membership provides access to a variety of networking and professional resources and collaboration with other rescue missions throughout the nation.
Our Mission — Restoring Hope, Transforming Lives
Our commitment to our residents, staff, volunteers, donors, and community drives our vision to be a leader in the field of rescue and recovery; providing a continuum of innovative programs and services that encourage and support personal, educational, and spiritual growth.