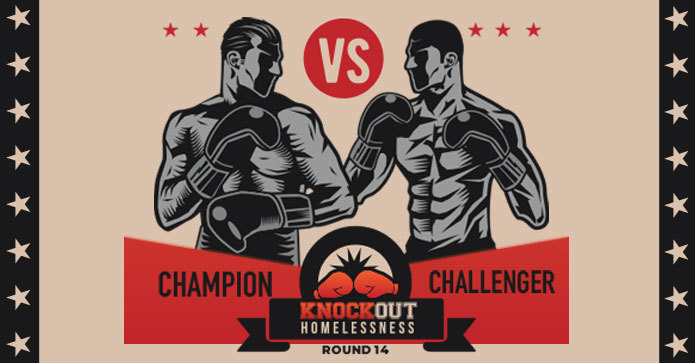 Knockout Homelessness, Round 14!
Tuesday, Feb. 21
The Erie City Mission and the Bizzarro Family will step into the ring once again to attack homelessness head on in this year's 14th Annual Knockout Homelessness fundraising event.
Knockout Homelessness - Round 14
Tuesday, February 21, 2023 at the
Bayfront Convention Center
5:30 PM – Doors Open for viewing of auction and raffle items
6-9:30 PM – Dinner and Exhibitions


Guests will enjoy a delicious dinner, exhibition boxing, a live auction, and raffle.
Proceeds from this fundraiser directly benefit the Erie City Mission's emergency men's shelter.

---
Tickets are on sale now!

$40 General Admission Ticket
$350 General Admission Table of 10
$100 Gold Ticket
$800 Gold Table of 10

Contact Tammy Fenno at 814/452-4421 x262 or tammyf@eriecitymission.org to reserve your tickets today.

---
---
Meet our Celebrity Fighters!
Our celebrity boxers are committed to fighting homelessness both inside and outside of the ring. Show you're in their corner by donating to their crowdfunding campaigns.
Click the link of your favorite boxer below and donate to their campaign today!

100% of the monies raised through the crowdfunding pages go to the Erie City Mission's emergency shelter.

---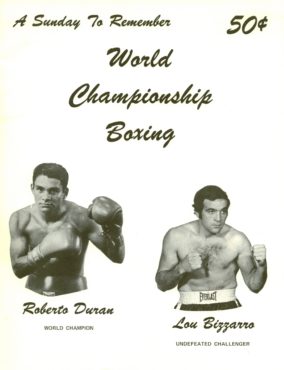 Lou Bizzarro Sr.

As a special tribute to Erie boxing legend, Lou Bizzarro Sr., this year's main exhibition fight will highlight Lou Sr.'s 1976 fight against Roberto Duran.

Lou Bizzarro Sr. fought between November 1964 and February 1982, compiling a record of 31-2 with nine knockouts. In May 1976, the 22-0 Bizzarro challenged 55-1 Roberto Duran for the WBA World Lightweight title in Erie, Pennsylvania, coming off the canvas four times before Duran knocked him out at 2:59 of round 14.
Lou Bizzarro Sr. was recently inducted into the Pennsylvania Boxing Hall of Fame.

---
Andy Vinca
is the Owner of Angelo's Roofing. He will touch gloves with Lou Bizzarro, Jr. in the second co-feature bout.
At 5'9 and weighing in at 175 lbs., Andy is no stranger to the boxing ring. As a member of the Bizzarro Boxing Club, Andy spent much of his adolescent years learning the skills of boxing. Outside the ring, Andy has spent years on the courts, playing basketball for Fairview High School, Pennsylvania Highlands Community College, and Mercyhurst North East. Andy graduated from Edinboro University with a BS in Education.

"I am stepping into the ring to join the Erie City Mission in their fight against homelessness and to support people in Erie who are struggling. I have always believed everyone has the right to the basics needed to live--food, clothing, and shelter. Nothing else can be achieved in life until basic needs are met. I always have and always will support a hand out to those in need and a hand up to God."
---
---
---
Michael Outlaw,
is the Community Liaison for the city of Erie and a John Maxwell certified Coach, Speaker, and Trainer. He will be lacing up his gloves and entering the ring against John Boy Bizzarro in the first co-feature bout.
Michael is 46 years young, weighs 199 lbs. and stands at 5'11. Although he may not have experience in the ring, Michael spends his days fighting for the city of Erie and its people. Michael has been waiting over two years--due to the event's cancelations--to step into the ring to fight homelessness in his city. He is a man of faith, a family man, an exceptional cook, novice golfer, loves western and spy movies, and claims to be the greatest backyard football safety from Woodlawn.
"I'm stepping in the ring to demonstrate the Gospel of Jesus Christ and raise awareness on the importance of creating projects, programs, and policies to eradicate systems that disproportionately impact marginalized communities."


---
---
---
"Thank You" Round 14 Sponsors!


Main Event Sponsors
Erie Federal Credit Union
Northwest

Media Sponsor
ErieNewsNow
Bout Sponsor
Marquette Savings Bank
Fight Sponsor
Elevate Church
Interim HealthCare of Erie
Lollie & Co.
Knockout Sponsor
Brew Ha Ha
ERIEBANK
Pressed Bookstore & Coffee
AmeriHealth Caritas PA
Wm. T. Spaeder
---
Interested in sponsoring this year's event?
Sponsorship tiers and advertising space are still available for Round 14.
Donations towards the auction and raffle are also needed.

Download the proposal below.



For more information contact Tammy Fenno at 814/452-4421 x262 or tammyf@eriecitymission.org

Contact
Tammy Fenno
Development Associate

814-452-4421 x262
Email